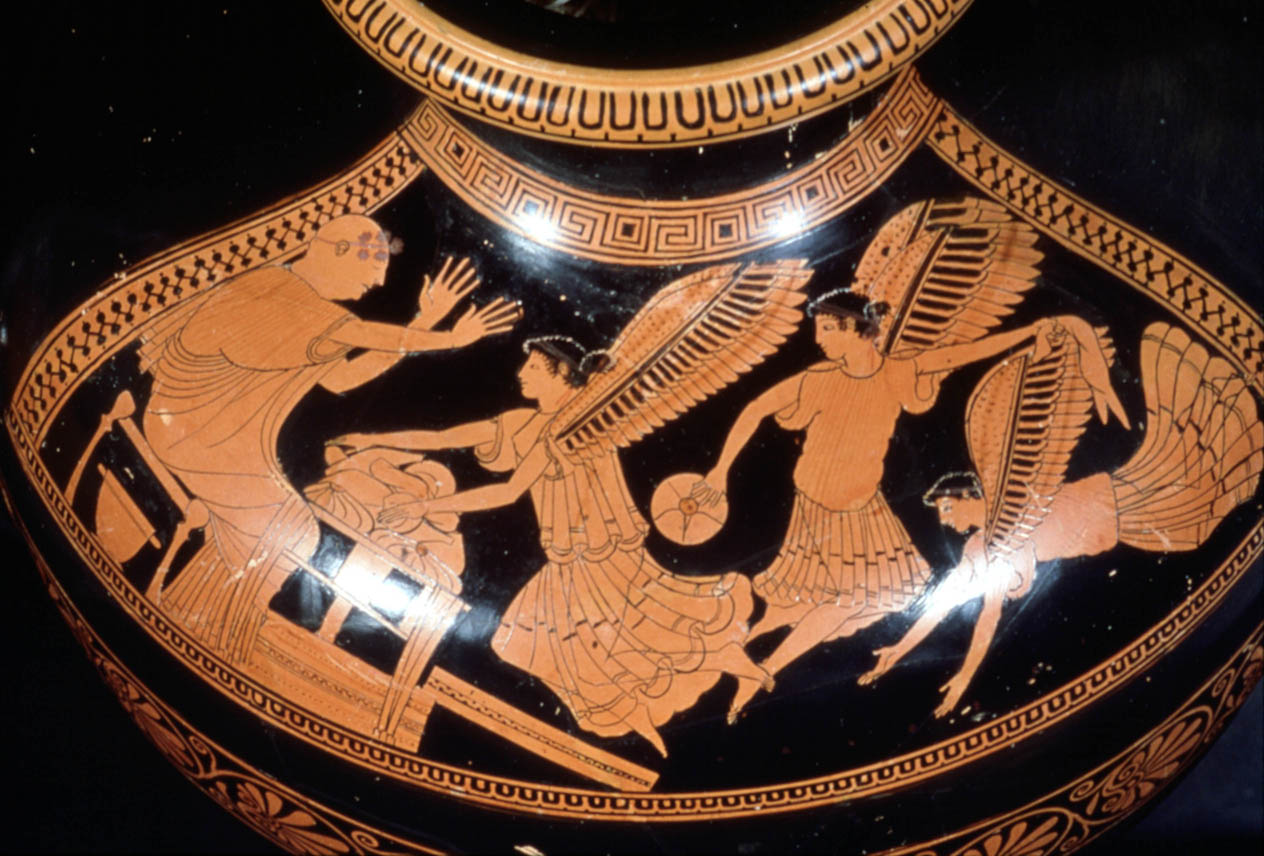 Phineus defending himself from the Harpies,
the second Harpy from the right
holds in her right hand a cake
that can be identified as plakous.
Collection of The J. Paul Getty Museum,
Malibu, California: Malibu 85.AE.316
© Perseus Project.
This post will answer the friendly demands of our readers for something more practical concerning offerings for the Gods and Goddesses. In this post I will give you a successful reconstruction of the well know offering cake for ancient Greeks and Romans based on my personal experience cooking it. Brumfield (1997) in his well researched article that presents a full analysis of the terracotta votives from the sanctuary of Demeter and Kore in the Acrocorinth, points that
plakous
is one of the commonly identified "thick single-knobbed cake". Athenaios compared it with the seed pod of mallow (58b-e) and Hesychios also notices that (
s.v.
πλακοῦς · ἐκτὸς τοῦ πέμματος καὶ ὁ σπερματικὸς τύπος τῆς ἡμέρας μαλάχης). According to Athenaios, the
plakous
was a baked, large and round, sweet and thick "child of Demeter" (137b-c). Suidas clearly indentifies the plakous as filed with cheese (
s.v.
πλακόεις · καὶ τὸν πλακόεντα πίον τυρόφορον).
Plakous
, of course, was not used only for offering to Demeter and Kore, but also commonly seen in the Athenian Agora (identified in Thomson, 1952), an offering to Apollo (
Anth. Pal.
6.55) and to others (Brumfield, 1997: 170).
The problem with the
plakous
is that, although it was commonly cooked and used for offerings and consumption, there is only one main source that provides clues of how we today can cook it; that source is the Roman Cato in his
De agri cultura
, 76 who provides a step by step recipe for
placentum
, which was recognized by the scholars as the Greek
plakous
(good discussion in Grandjouan, Markson, and Rotroff, 1989: 57-62):
[76.1.1] Placentum sic facito. Farinae silig[i]neae L. II, unde solum facias, in tracta farinae L. IIII et alicae primae L. II. Alicam in aquam infundito. Ubi bene mollis erit, in mortarium purum indito siccatoque bene. Deinde manibus depsito. Ubi bene subactum erit, farinae [5] L. IIII paulatim addito. It utrumque tracta facito. In qualo, ubi arescant, conponito. Ubi arebunt, conponito pariter. [2.1] Cum facies singula tracta, ubi depsueris, panno oleo uncto tangito et circum tergeto unguitoque. Ubi tracta erunt, focum, ubi cocas, calfacito bene et testum. Postea farinae L. II conspargito condepsitoque. Inde facito solum tenue. Casei ovilli [5] P. XIIII ne acidum et bene recens in aquam indito. Ibi macerato, aquam ter mutato. Inde eximito siccatoque bene paulatim manibus, siccum bene in mortarium inponito. [3.1] Ubi omne caseum bene siccaveris, in mortarium purum manibus condepsito conminuitoque quam maxime. Deinde cribrum farinarium purum sumito caseumque per cribrum facito transeat in mortarium. Postea indito mellis boni [5] P. IIIIS. Id una bene conmisceto cum caseo. Postea in tabula pura, quae pateat P. I, ibi balteum ponito, folia laurea uncta supponito, placentam fingito. [4.1] Tracta [i]n singula in totum solum primum ponito, deinde de mortario tract linito, tracta addito singulatim, tem linito usque adeo, donec omne caseum cum melle abusus eris. [5] In summum tracta ingula indito, postea solum contrahito ornatoque focum deverrito temperatoque, tunc lacentam inponito, testo caldo operito, pruna insuper et circum operito. Videto ut bene et otiose percoquas. Aperito, dum inspicias, bis aut ter. Ubi cocta erit, eximito et melle unguito. [10] Haec erit placenta semodialis.
There are a great number of good translations of this passage - if you wish to follow Cato word-by-word - one is by Ricotti (2007: 109-110) that offers also provides a recipe for its reconstruction. Personally I find the pastry a difficult task, because following Cato's measurements of the dough's ingredients, I end up with 60gr semolina and non-absorbed 120gr flour however (I measured 2oz as 60gr), I will agree with Dalby and Grainger (2000: 102-105) that you need more flour to mix with 60gr semolina for the layers. The base is not a problem. Dalby and Grainger use the following measurements 60gr semolina, 170gr of flour, 340gr of soft or creamy cheese, in this case offers ricotta (the same suggestion follows Ricotti), but I did not follow it, I used a soft goat cheese, I squeezed and brake it in small pieces and add 3 spoons of honey. The inside layer dough was made by first adding water and semolina and leave it for an hour. I swollen the semolina as much as possible and I added it with a mixed 1/3 cup of flour - it needs to be mixed as good as possible so to look like a uniformed mix. The base dough was made with 3/4 cups of flour mixed with 2 spoons of cold water. Now it was time to start making the
plakous
; I place in an oiled baking dish fresh laurel leaves (not bay leaves as Ricotti uses - or probably was meant 'bay laurel leaves') and above them the big dough of flour - that is the base - above it I add a layer of the semolina and flour dough and then some of the mix of the cheese and honey; that continued up to the point that the cheese and honey mix finished and its final mix was covered with the remaining dough. The folding of the
plakous
, I have to confess, is an interesting process; it needs to be knobbed by taking one side of the circular
plakous
and folded towards its middle. I baked it in 220 degrees Celsius for 45 minutes to 1 hour. I left it to get a bit cold and pour heated honey on top.
I have to note that the process above is from Dalby and Grainger with the only difference that instead of ricotta cheese I used soft goat cheese. Ricotti suggests that frozen puff pastry my get you the best result - I am sure, though, that the use of ready made frozen puff pastry will result into a cheese-pie with honey, not a
plakous
.
References
:
Allaire Brumfield, Cakes in the Liknon: Votives from the Sanctuary of Demeter and Kore on Acrocorinth,
Hesperia: The Journal of the American School of Classical Studies at Athens
, Vol. 66,No. 1 (Jan. - Mar., 1997), pp. 147-172.
Andrew Dalby, Sally Grainger,
The classical cookbook
,
British Museum Press, (2000).
Clairève Grandjouan, Eileen Markson, Susan I. Rotroff, Hellenistic Relief Molds from the Athenian Agora,
Hesperia Supplements
, Vol. 23.
Dorothy Burr Thompson, Three Centuries of Hellenistic Terracottas,
Hesperia: The Journal of the American School of Classical Studies at Athens
, Vol. 21, No. 2 (Apr. - Jun., 1952), pp. 116-164.
Eugenia Salza Prina Ricotti,
Meals and recipes from ancient Greece
, Getty Publications, (2007).