Posted on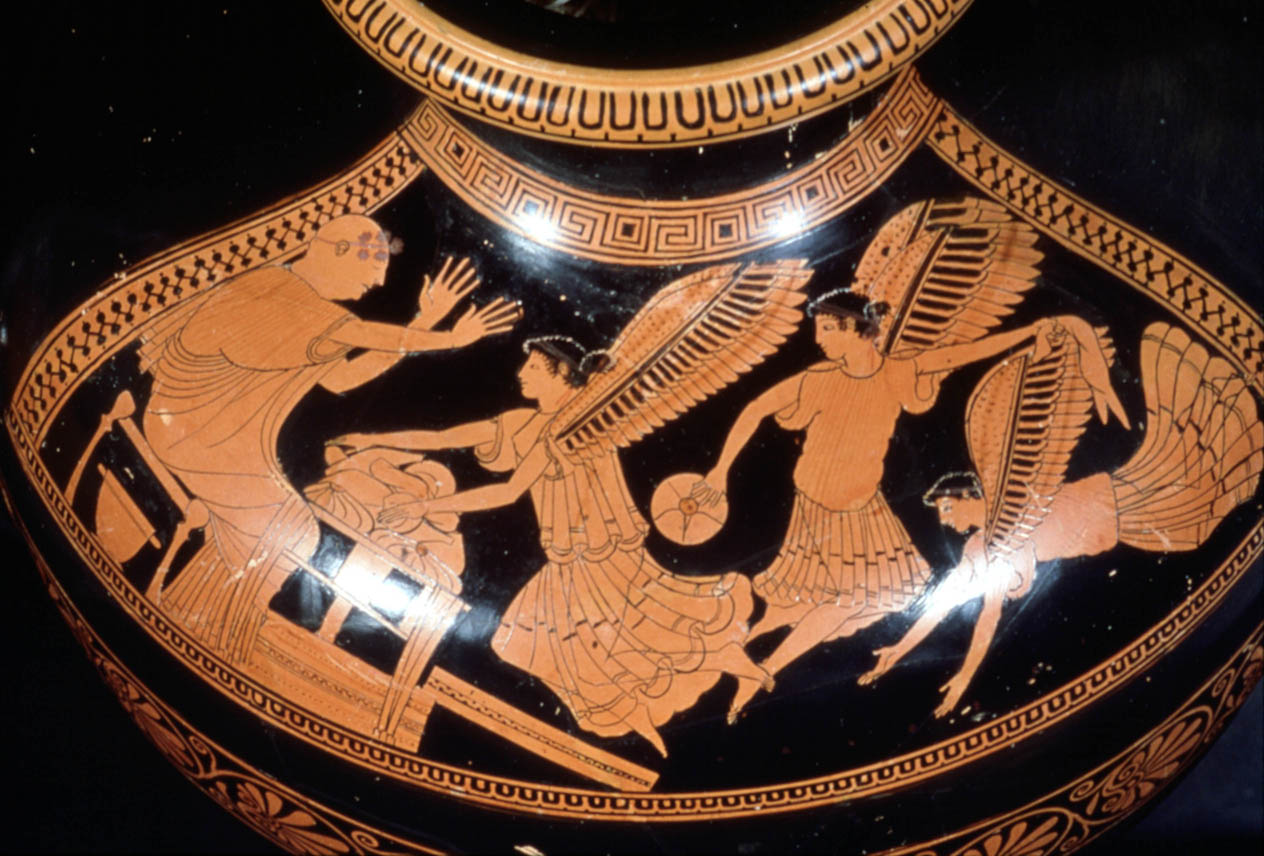 Phineus defending himself from the Harpies,
the second Harpy from the right
holds in her right hand a cake
that can be identified as plakous.
Collection of The J. Paul Getty Museum,
Malibu, California: Malibu 85.AE.316
© Perseus Project.
This post will answer the friendly demands of our readers for something more practical concerning offerings for the Gods and Goddesses. In this post I will give you a successful reconstruction of the well know offering cake for ancient Greeks and Romans based on my personal experience cooking it. Brumfield (1997) in his well researched article that presents a full analysis of the terracotta votives from the sanctuary of Demeter and Kore in the Acrocorinth, points that
plakous
is one of the commonly identified "thick single-knobbed cake". Athenaios compared it with the seed pod of mallow (58b-e) and Hesychios also notices that (
s.v.
πλακοῦς · ἐκτὸς τοῦ πέμματος καὶ ὁ σπερματικὸς τύπος τῆς ἡμέρας μαλάχης). According to Athenaios, the
plakous
was a baked, large and round, sweet and thick "child of Demeter" (137b-c). Suidas clearly indentifies the plakous as filed with cheese (
s.v.
πλακόεις · καὶ τὸν πλακόεντα πίον τυρόφορον).
Plakous
, of course, was not used only for offering to Demeter and Kore, but also commonly seen in the Athenian Agora (identified in Thomson, 1952), an offering to Apollo (
Anth. Pal.
6.55) and to others (Brumfield, 1997: 170).
Read More
Posted on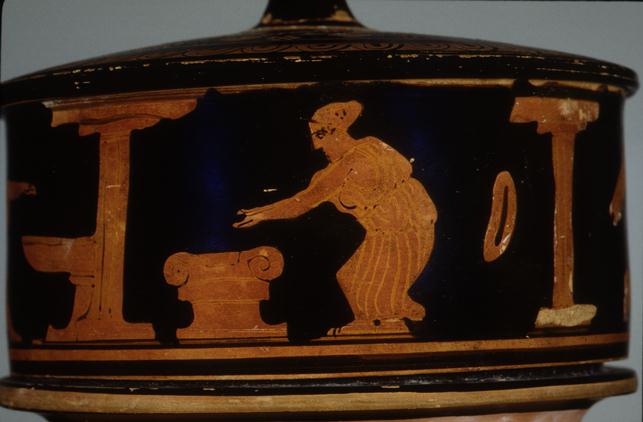 In between two columns that represent
the interior of an oikos
stands a woman, reaching to an altar;
a wreath is hung on the wall behind her.
A scene comparable with Menanders
discription of a domestic ritual boundary.
Musée du Louvre CA 1857. © Perseus 1992
For a number of brief posts, the past six years, I discussed elements of the commonly known 'household' worship, supported with primary and secondary sources. In the post with the title
Ancient Greek Superstitious Religiosity
, the point was made that the religious act within the private space of one's house could easily share the religious feelings as well as the realisation of the ritual's importance of those practised in public. In
Purify My Haunted House
, discusses a good example of
lex carthatica
of a common pollution-to-purifcation ritual schema of Greek ritual logic (I am using the term 'schema' after Sourvinou-Inwood, 2011) within the private sphere. In
Rural Dionysia for the Aristophanic household religion
there is a clear example of how the 'public' festival schemata reinforced the 'private' ritual schema and vice versa. In this brief post I will examine the ritual boundaries of household worship by taking analogically the connection of the sanctuary's creation of 'sacred space'.
Read More